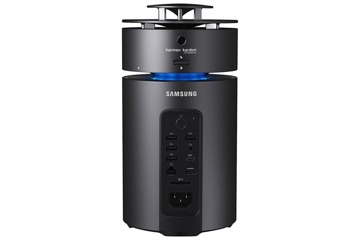 Samsung's cylindrical ArtPC Pulse computer apes design of Apple's Mac Pro
By
Mike Wuerthele
Monday, October 10, 2016, 03:25 pm PT (06:25 pm ET)
Samsung, in conjunction with Harman Kardon, has quietly revealed the new cylindrical consumer-grade ArtPC Pulse line powered by the sixth generation Skylake processor, which has already begun to draw many comparisons to Apple's 2013 Mac Pro design.
...
A configuration with a dual-core 2.7 GHz Kaby Lake i5 processor, 256GB of NVMe storage, 8GB of RAM is up for pre-order at Amazon for $1199.99.
Gee, can't Samsung sell anything that's not a copy of some other company's product? Nobody in the world was shipping or even talking about a small-black-cylinder form factor before Apple released the 2013 Mac Pro and now Samsung ships one. And don't get me started on their iPhone clones. Don't they have any product designers capable of original thought?